Engineering Jobs is not supported in your location
We are expanding our reach! Check back with us to find out when we launch in new regions.
Never miss an opportunity with Job Alerts
To take the stress out of job hunting, set up Job Alerts today and stay up-to-date with the latest engineering jobs. Simply tell us exactly what role you're looking for, how much you'd like to earn, and where you'd like to work. We'll then send you instant email alerts of top quality engineering jobs as soon as they're posted on our site.
Login to view your Job Alert preferences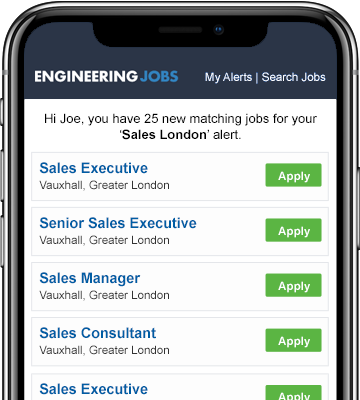 Why use Job Alerts?
Set up Job Alerts in seconds
Time is precious, so that's why we make it quick and easy to set up Job Alerts; our instant notification feature. Simply set your search criteria to start receiving alerts instantly. If your criteria changes, just log in to your account to manage your preferences at any time.
Receive the latest jobs via email
By setting your job criteria, our clever Smart Match technology will match the most suitable jobs to you. Once a new, relevant, job is posted by one of our recruiters, you'll receive a Job Alert immediately, so you never miss out on the perfect role.
Apply on the go
Received an exciting Job Alert during your morning commute? Great! Our Job Alert emails all include an 'Apply' button, so you can send your application with just one click. What's more, there's no need for a desktop - apply securely and discreetly on all devices, including mobile, tablet and laptop.